HOW TO IMPRESS RECRUITERS AND HIRING MANAGERS DURING YOUR NEXT JOB INTERVIEW... AND ACTUALLY GET THE JOB YOU DESERVE.
OUTCOMPETE 100's OF OTHER JOB APPLICANTS, ROCK THE INTERVIEW, GET THE JOB
This action-packed course guides you through all relevant job interview questions and ensures you position yourself as the best candidate.
Real-life questions and word-by-word answers!
Leave nothing to the faith, EXCEL in a job interview every time and finally nail that job you've been dreaming about!
Join those who increased interview callback rates by 147 % and secured incredible job offers while having 250+ other people applying for the same position.
Learn how you can be 100% prepared and overcome this incredibly stressful experience as a WINNER… while actually spending less time searching for jobs and for going to interviews (especially having not to invent a gazillion of lies to throw at your current employer for not being able to get to work).
Well, you are probably wondering: "Who the hell are you?"
Fair enough…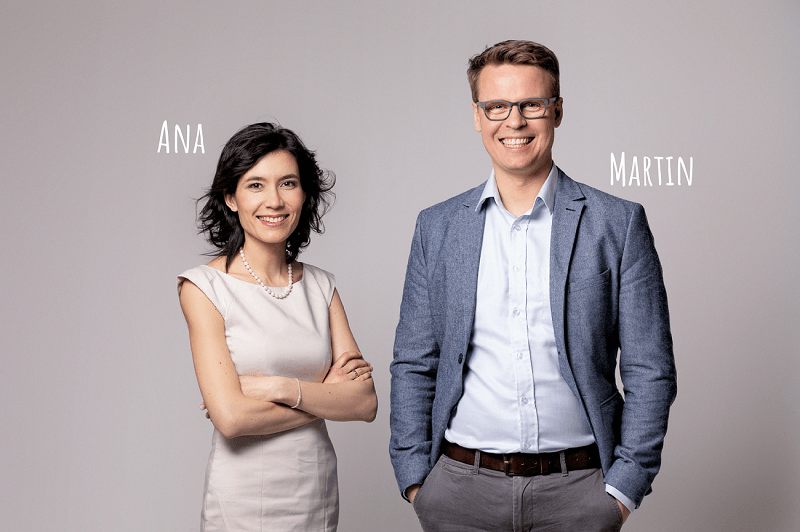 Who are we?
We are Martin and Ana (the co-founders behind Cleverism.com).
Both of us grew up in a lower middle class family. Our parents did not have well-paying jobs (Ana's parents: sales clerk, truck driver; Martin's parents: secretary, crane operator) and hence could not really teach us how to find and secure a better Job (nevertheless how to rock the job interview).
They provided us with love and ethical values (love people, love education, being honest, thinking long-term, working hard), but were not able to teach us anything about finding our dream job.
Ana: On top, I moved to Germany on my own as I was 18 (with no friends here, and for sure, no business connections, and just €40 in her pockets), but this did not hold me back to prepare myself for job interviews, get three great offers after graduation and land a job at first league management consulting company (Oliver Wyman).
Martin: My parents always told me "Keep your heads down. Work hard. Never dream big…" But I didn't want to follow the believes my parents gave me.
In our early years we have been to hundreds of interviews, and we both sucked at it (If I imagine to be the hiring manager, I would also not have hired myself although I am smart; I was just not prepared and my answers were worse than bad).
After always getting a NO and feeling really depressed, I tried to take a step back and look at the situation.
Was it ME who was not clearly sending the right messages?
Was it the EMPLOYER who was just not getting it how great of a job candidate I am?
The numbers were against me. 150+ interviews and still no job.
So, I've made the most logical decision (at least to me).
Look for what I did wrong and how I can improve that.
After working through dozens of books, articles, and face-to-face interviews with hiring managers, I was getting the first positive feedbacks in interviews (YES, I 'm on the right path, I thought).
After some further interviews, I started to see the first positive results… many final round interviews and some job offers.
And the approach we've found not only works for us.
Several of our friends and others have used our approach to make sure they rock the job interview (and land their Dream Job while outcompeting hundreds of other job applicants, just because they were prepared using our insights).
So, do you want to…
ROCK EVERY JOB INTERVIEW AND GET HIRED, EVEN IF...
You are AN INTROVERT.
You are STRESSED OUT easily.

You have absolutely NO PRIOR EXPERIENCE with job interviews.

You have TONS OF EXPERIENCE with job interviews.

You have experienced many failures in interviews and don't know WHAT TO IMPROVE.


Your skills are not in demand, your profile is NOT SPECIAL, and the situation on the labor market is 'BAD'.
What if I told you interview success is perfectly achievable and that there is NO MAGIC INVOLVED?
There is no shortcut to success and the only way to make MAGIC HAPPEN, is to give your dreams all you got.
Cliché much?
Maybe… But also true.
You may be wondering, what is it that qualifies me as an EXPERT in the field?
Good question.
But before answering, let me give you our story in a 10-second nutshell:
Let's put it this way… I was where you are now.
MANY INTERVIEWS… MANY UNSUCCESSFUL ATTEMPTS.
LOST OPPORTUNITIES and WASTED TIME.
This was my strategy: I sent out MANY random applications.
True, many of my applications went unnoticed but I did get invited to a few interviews.
Thought I was QUITE GOOD. Expected offers and yet…
All of my interviews at the time ended in FAILED ATTEMPTS.
After a few months, I started questioning myself… Was there something WRONG WITH ME?
I knew my profile was good. They wouldn't call me in for interviews if it wasn't…
My technical knowledge was impeccable. I don't know everything there is but who does?
I CONSIDERED MYSELF well prepared in every sense.
I have always been told I am not lacking CHARISMA and that I am a GOOD SPEAKER…
MOST IMPORTANTLY, I typically ended these interviews with a good feeling, thinking everything went well.
I was clearly doing SOMETHING WRONG.
BUT WHAT?
I thought about it A LOT…
I read, I researched and… I started asking my interviewers for FEEDBACKS.
Often times, this was heavy…
They REJECTED ME and I still needed something from them.
But at this point, a lot was at stake and I already had a well defined mission:
Unlock the SECRET OF SUCCESS in job interviews.
It was then I realized I will never come forward if I don't dedicate everything I've got to this mission.
So I read, asked and thought. I compared different feedbacks and I learned about successful strategies other people used.
So, what was the catch?
There were MANY MISTAKES I was not aware of before… The most significant one?
I neglected the POSITION OF A COMPANY and consequently failed to focus on ITS NEEDS.
But don't get me wrong! It didn't immediately learn HOW TO OVERCOME THIS…
Understanding company's needs and requirements is not a simple thing to learn and this learning takes time.
But I started understanding where I went wrong and could start focusing on IMPROVEMENTS.
I wasn't even aware how far I've come when…
BUM.
I landed a job offer. I finally made actual progress in my career after almost a year of stagnation!
I literally nailed this interview and actually, IT TURNED OUT IT WASN'T SO HARD.
But my story didn't end there…
I realized there is a way to get to the stage where I CAN BE 100% PREPARED for ANY interview I take part in.
I also realized that this invaluable knowledge deserves to be spread, because…
Well, I know how it feels…
The pain of REJECTION and LOST OPPORTUNITIES is very REAL.
To cut the story short, all of this came together and I created a fairly simple yet extremely EFFICIENT TOOL which guides you through the stressful and challenging process of job interviews.
BUT… I first want you to think about one thing…
Do you actually know…?
...HOW SLIM ARE THE CHANCES OF YOU GETTING THE JOB YOU WANT?
VERY SLIM.
And let me be very specific here:
When speaking of traditional ways of job hunting, i.e. online job applications: You have between 0.75 and 1.2% chance of getting a job.
You first need to pass CV pre-selection which ELIMINATES between 70% and 80% of all candidates.

THEN… the recruiter will closely look whether you fulfill all formal (and a few informal) requirements and whether you COULD BE a "GOOD FIT" to the company.
AND THEN…
…potentially…
…if your profile fits and you are fortunate enough…
…the company MAY INVITE YOU FOR AN INTERVIEW…
NOW GUESS: What is the approximate percentage of candidates who ACTUALLY GET INVITED TO AN INTERVIEW?

…
15 %, my friend.
And yes, these estimates are somewhat general and rough but do take my word for it:

ODDS ARE DEFINITELY NOT IN YOUR FAVOR (Hunger games reference is intentional).

And these odds become even more critical if you are after a very SPECIFIC or HIGHLY DESIRABLE JOB or a job in a SPECIALIZED or VERY ATTRACTIVE INDUSTRY…
And finally, odds are EXTREMELY CRITICAL if you are desperately after a job, meaning that this percentage decreases on labor markets which are lacking jobs or offer only poorly paid opportunities.
I do like numbers but even if you're really not into math, I do find these percentages quite illustrative…
Therefore…
… If you do happen to be among those privileged applicants, THAT LUCKY 15 % OF THE WHOLE BUNCH…
My question to you is:
Would you be able to say YOU ARE PERFECTLY READY TO TAKE ON THIS INTERVIEW?
If the answer is "Hell yes!"– That is amazing. If you feel confident and perfectly equipped to take on this challenge right here and right now, I don't see a reason for you to continue reading this (Except if you want to maximize your chances).
Keep up the good work!
If, however, you took a second and aren't really convinced the answer to my question is "yes"…
I have another QUESTION for you, being…
DO YOU KNOW WHAT YOU ARE LOSING BY NOT PREPARING FOR AN INTERIVIEW?
And I know.
This question may sound abstract, maybe even pointless but I DARE you to think about it…
Have you ever had an unsuccessful attempt in an interview?

Can you recall the feeling of anxiety resulting from one simple though: "I am not ready for this…"?
…The feeling you don't belong there with 'those people', the feeling that you are not good enough.
…Fearful anticipation of what they MAY ASK you and whether you'll know how to answer (at all)…
…The feeling of embarrassment because you are not sure how to reply to a certain 'tricky question'…
And THEN…
That horrible, defeating feeling of disappointment following an unsuccessful attempt.
Disappointed tone friends and family try to cover up but you still can hear.
The feeling you failed not only yourself, but them too.
The fear they will appreciate you less being so unsuccessful.
Ahhh…
These things are hard to get over and these 'failures'… They leave a mark.
And the absolute WORST THING about failed attempts?
YOU HAVE TO DO IT ALL OVER AGAIN.
Search through job posts and APPLY AGAIN.
Prepare for new interviews all over again, ask your boss for DAYS OFF and come up with new excuses.
Stress about it, overthink and worry all over again.
In such moments… Have you ever thought to yourself…
"How would my life look like if I just prepared?"
Indeed, how would it look like?
How would world, life, universe look like if you actually prepared and GOT THAT JOB OFFER?
And don't tell me: "Well, I'd be happy"- That's a bit obsolete…
DIG DEEPER!
What were the ACTUAL REASONS for you to apply and want THIS JOB in the first place?
What is it EXACTLY that would make you happy about it?
I presume it's not just about saying you were successful and that a company wants you badly….
VISUALIZE: What is it that you actually LOST by not getting this job? Could it be..?
A chance to finally do something in your area of expertise? An actual STEP FORWARD in your career? A chance to finally use some of those things you studied so thoroughly during studies?

A chance to move away from ridiculous, repeating tasks and use a bit more than 10% of your capacity? A CHANCE TO BE CHALLENGED but potentially, REWARDED TOO? A chance to look at the result of your work and feel as if you DID SOMETHING USEFUL OR GOOD OR BEAUTIFUL?

A chance to finally BE PROUD OF YOURSELF? A chance for other people to BE PROUD OF YOU?

This would be a BETTER PAID JOB. And even though difference would not be gigantic immediately, this salary raise would mean significant upgrade to your lifestyle… And it would mean a lot in the long run. Or you family's lifestyle and their future… If you have gotten this job, you could very well afford that trip to Thailand you've been dreaming about for years now…

The working space, PEOPLE, the environment… It all seemed dreamy and you got the impression this would be a place you would fit in well and even, want to go to work to. Surprising how such a place actually exists, right?

This company is PRESTIGIOUS! And it's not about the image or bragging about working there but about a chance to learn so much and all the opportunities which would come and all doors which would open as a result of working there…

AN ENTRY TICKET FOR THE WORLD OF OPPORTUNITIES.
Feeling any of these 'missed chances'?
DO YOU NOW UNDERSTAND?
If you manage to be among those lucky 15%, YOU ARE GETTING A SHOT AT:
HAPPINESS, PROSPERITY, BETTER TOMORROW…
You are offered a chance to change what you don't like about your current job and work towards achievement of your goals.
THE POINT IS: You should always keep in mind WHAT MADE YOU APPLY IN THE FIRST PLACE, and then…
MAKE SURE YOU GAVE YOUR BEST SHOT!
But I know…Easier said than done. I am perfectly aware of this…
And I know my questions are getting harder and harder but do indulge me…
WERE YOU EVER ABLE TO SAY YOU WERE 100% PREPARED FOR A JOB INTERVIEW?
BE HONEST!
Saying you gave your best at anything is a tough claim to make…
I, for once, always think there was something I could've done better, different or wiser.
That be said, I'll simplify this inquiry a bit…
I am not asking about the technical knowledge they sometimes investigate in interviews.
We are focusing on other aspects here.
So… Have you ever gave your absolute best shot in an interview?
Appearance.

Body language.

Knowledge on the company, position and what they're after.


Actual phrasing of the answers.
I asked some of my friends and colleagues this exact question and here are some of the answers I got:
No! These experiences are so traumatic, I am mostly embarrassed because I'm blushing and I focus on trying not to forget anything important from my resume… But I'm really not much of a public speaker or extrovert, so I may not be the best example… - Anna

I am currently trying to change my job and I went for some interviews… I was always extremely exhausted and mostly tried not to let that show. Also, I tried to cover how much I want to change my current job and get a new one… Regarding other things, I can't say I focused on those too much… But I probably should have…

I think I am pretty good in interviews. This is because I am a good speaker and all, but it's so hard to prepare! Like, I never did that practicing thing… When you practice potential questions with someone? Yes, I somehow never had the time for that and well… Practice makes perfect, right? Therefore, I wouldn't say I was ever 100% prepared cause that just wouldn't be true… - Julia

I didn't get any answers where a person said he/she was ever 100% prepared for an interview…
In fact, the majority of those questioned didn't feel PREPARED AT ALL!
I started wondering… HOW COME?
I mean, they could've been too self-critical, but they all gave very concrete examples and in fact, didn't get desired job offers which inclined they DID SOMETHING WRONG…
So, I decided to pursue this matter further and inquire whether you/they know…
WHAT INFLUENCES THE SUCCESS OF THE INTERVIEW?
Because many people seem to think success in an interview is something ABSTRACT!
Something which depends on some HIGHER POWER…
So, what do you think?
Is it the way you LOOK, TALK and PRESENT YOURSELF?
Or…
Is your TECHNICAL EXPERTISE crucial?
And you see… It is already becoming less abstract!
There are CERTAIN CONCRETE FACTORS which can influence ones success in an interview.
But what's the DEAL BREAKER?
I have good and bad news for you.
GOOD NEWS:
Since you already got so far, there is a high probability your profile is right for the position.
You may be asked about your qualifications and education but these inquiries will most probably be a formality… It's a job interview, you have to talk about your skills and qualifications a bit.
TECHNICAL KNOWLEDGE… You can't learn anything new; you can only try to demonstrate what you already know and usually, they will have reasonable expectations in this regard.
MY POINT IS: Don't worry about your profile and experience too much, they are probably perfectly aware of your CV and considering you've been invited to an interview, they are probably satisfied with what you have to offer in this aspect.
So, what is it that DOES MATTER?
(A kind of) BAD NEWS:
EVERYTHING.
Everything you say, the way you talk, move, shake hands.

The tone of your voice, the way you talk about your previous employer…

The way you explain your experiences, education and POSITION YOURSELF.

SOFT SKILLS you choose to highlight.

How nervous you are, whether your expose has a CLEAR STRUCTURE…


Your community work, whether you played an instrument, worked in teams…
… EVERYTHING MATTERS.
Ok… So, knowing that EVERYTHING MATTERS…
WHY DO PEOPLE STILL CHOOSE NOT TO PREPARE THEMSELVES PROPERLY?
EXPLANATION FOR THE LACK OF PREPARATION
And don't let yourself be fooled… Choosing not to do something is still A CHOICE.
I got many differently phrased answers when I asked my friends and colleagues about the ACTUAL REASON for the lack of preparation.
Nevertheless, as different as these answers may sound, they can all be grouped in 4 categories we'll cover here…
EXPLANATION #1: I can never be completely prepared!
I think this excuse is the most common one…
And being a perfectionist myself, I can understand this reasoning to some extent but…
YOU ARE MISSING THE POINT.
Yes, that 100% I am talking about…
It's hard to claim anything so absolute but does this prevent you to try and be AS GOOD AS POSSIBLE?
Or in this context… AS PREPARED AS YOU CAN BE?
It doesn't.
In my opinion, people usually aren't afraid of not reaching that golden 100% but of other things…
They are afraid of realizing just HOW UNPREPARED THEY ARE.
… Of becoming aware of ALL WEAK SPOTS…
When refusing to practice with others…The reason behind is that people usually don't want OTHERS TO SEE THEIR WEAKNESSES and CRITICIZE THEM.
They are AFRAID THIS WILL DEMOTIVATE THEM EVEN MORE than plain failure.
And then there are statements like:
"But I practiced and then they ask me something completely random, like, what do you think about Karl Marx and his ideology… How can I ever be prepared for something like that? I'm really not into philosophy…"
Ok, these things can happen but think about it…
Is there really not a way to go around questions like this?
Even if you don't like philosophy, even if the question is completely random (but they rarely are), is being silent or saying: "I'm not sure I understand" really the best you can do…?
Or let's put it differently: Do you really think they wanted you to elaborate in detail on a sensitive philosophical theory?
I wouldn't be so sure about it…
It takes some time and it takes some self-reflection, but there are ways to learn how to overcome tricky questions and situations IN THE BEST WAY POSSIBLE…
And you can be sure a person interviewing you will be able to differentiate between GOOD, AVERAGE and POOR answers.
Now, this has nothing to do with being perfect!
Even simple thinking about remote questions which may come up is a MAJOR STEP FORWARD and yet…
Many still refuse to give it a try based on an excuse that ABSOLUTE READINESS IS IMPOSSIBLE.
But considering this to be true, isn't it true that NOBODY can be absolutely prepared and that you only need to be prepared BETTER THAN EVERYONE ELSE?
PREPARED BETTER than those other 30,40 candidates which got invited to that very same interview. You don't have to be PERFECT, just EXCEL at the right time.
Think about that…
EXPLANATION #2: No time for preparation.
This one is not an explanation, it's an EXCUSE.
NO TIME you say?
And how much time did you spend on social networks today?
Or simply procrastinating?
And I don't even want to know this but this excuse gets my blood running.
There are 24h in every day and it is your CHOICE how you decide to spend this time!
NOTE: What you have and don't have time for is SIMPLY A MATTER OF PRIORITIES.
Do you know exactly how much time you are losing BY NOT PREPARING FOR THE INTERVIEW PROPERLY?
Just think…
You will have to apply for other vacancies ALL OVER AGAIN.

You will LOSE PRECIOUS TIME and EXPERIENCE you could already be getting if you started in the company at that point.

You will lose time in preparations for FUTURE INTERVIEWS (if you realize how crucial this is sometime soon).

You will LOSE EXTRA DAYS to attend OTHER INTERVIEWS.


Rejection and picking yourself up after a failure… THIS CAN TAKE A LOT OF TIME.
DO YOU UNDERSTAND NOW?
You say you don't have time to prepare for an interview but…
YOU WILL END UP WASTING A LOT MORE TIME IN THE END!
You may want to take some time you spend on your cellphone and dedicate it to the RESEARCH ON THE COMPANY.
OR maybe, you could not watch the whole session of your favorite show on Netflix this weekend and try LISTING potential questions which could come up instead.
You may skip relaxing drinks (not that these are bad though) and decide to practice for an interview with your friend instead.
And please REMEMBER… You will not stop being an awesome parent or husband if you take some time to dedicate to this goal.
This investment truly is not a selfish one.
Do you now think there is a way for you to REPRIORITIZE?
EXPLANATION #3: I get so nervous all preparation goes to waste.
I hear you… This is a valid explanation but…
Are you honestly fine with this kind of emotion or emotional reaction limiting your CHANCES IN LIFE?
Being nervous is NORMAL.
In all honesty, I don't know a person which is not at least slightly nervous when confronted with a challenging experience such as a job interview.
If you CARE about it…If you truly WANT IT…
…You will probably experience some level of anxiety and stress and there is NOTHING WRONG with that.
AS LONG AS YOU HAVE IT UNDER CONTROL.
Allowing fear to dictate the way you'll act in an interview… One can no longer claim control over the situation and there is A PROBLEM.
Do you turn red or have sweaty hands?

Do you mumble and cannot articulate your thoughts well?


Do you tend to forget what you wanted to say or have troubles recalling simple information in an interview?
If you replied with YES to at least one of these questions, you may want to dedicate some time to TACKLE THIS MATTER…
Your fears may actually be standing in the way of your success and progress!
So, the first thing I need you to understand here is: There is a way to DEAL WITH THESE THINGS.
It may take some time, it may take a lot of energy and the preparation in your case may take longer but…
YOU CAN DO IT.
And let me ask you one more thing…
Was there a difference in the level of anxiety between situations where you felt well prepared and situations where you felt insufficiently prepared?
And if you don't have two interview experiences of this kind, take any other situations into consideration…
For example, two exams for which you were differently prepared.
Wasn't your ANXIETY LEVEL lower in situations where you were well prepared as opposed to those where you felt insufficiently or completely unprepared?
THIS IS SO NATURAL: Being aware of our weak spots, we tend to feel endangered and at risk.
And this is exactly where EMOTIONAL REACTIONS kick in…
A piece of advice to start with: START SIMPLE. Try being in control of all factors in your control.
PREPARATION is the key and the feeling of readiness can ease your tension drastically.
Is complete transformation possible?
ABSOLUTELY.
There are many practical tips and strategies you can take advantage of on this mission but you must be aware that…
IT WON'T BE EASY and IT MAY TAKE SOME TIME.
EXPLANATION #4: There is nothing I can do to improve my chances of getting a job.
"You are average and labor market is tough…"
Or similar explanations in this tone.
Well, I don't know whether you are average but I do know JUST HOW TOUGH the labor market is.
VERY TOUGH: Too little good jobs, too many highly qualified and skilled workers.
So, what now?
Curl up and wait for a falling star to make your wish?
GOOD LUCK with that.
Or try looking at it the other way around?
Ever seen an "AVERAGE" candidate landing A GREAT JOB?
It happens. More often than you think…
And do you know why?
It happens because these candidates TAKE THEIR CHANCES, give their BEST SHOT and finally, NAIL INTERVIEWS they get invited to.
They don't take risks. They don't think about whether they are average…
THEY PREPARE.
THEY SELL THEIR CASE and do not even think about positioning themselves AS AVERAGE, BUT AS VALUABLE.
IRREPLACEABLE EVEN…
And if you don't believe you are there just yet… Why don't you try working on it?
And if you just don't know HOW to SELL YOUR CASE?… Why don't you try learning it?
People are rarely born with absolute confidence and marketing abilities…
THESE SKILLS ARE LEARNED.
And I'm not saying: Fake it till you make it (although, at times, this can be useful too).
I am saying: UPGRADE, DO and PRACTICE until you make it!
You yourself decided you can't do anything to improve your chances…Now, it is you who has to DECIDE and START BELIEVING otherwise.
And at this point, I'd like to share something I think many of you could find useful…
Tell me…
HOW WOULD YOU FEEL KNOWING NOTHING CAN GO WRONG IN AN INTERVIEW?
I used this psychological trick to help me relax and I'd now like you to try it out, too.
When faced with a challenge, we all have a smaller or bigger tendency to give in to FEAR and DESPERATION.
We start optimistic, we are happy to have come to the INTERVIEWS PHASE, but then…
We start feeling down, fearful, we start doubting our abilities and our readiness for this job.
We start thinking something like: "Well, would it be that bad if I didn't get it? I could even be better off just staying where I am now… A lot less stress for sure."
It's ok to have a plan B but this is not it.
This is NOT CONSTRUCTIVE.
It's a game our fear is playing with us.
And I got to this realization by often experiencing TROUBLING THOUGHTS and SELF-DOUBT at their finest.
I started noticing how my thoughts changed from one day to another without any external events truly triggering them.
One day I was SUPER OPTIMISTIC and READY to take on the world… The next, I considered myself the BIGGEST LOSER and UNWORTHY of even being given an opportunity.
What was that about?
Ultimately, I got very mad about this LACK OF CONTROL…
So, I came up with a STRATEGY: I tried thinking about how I'd feel if I knew nothing could go wrong.
Imagine going to an interview for a job of your dreams….
Outfit on spot, you are on time and actually excited to be there.
At that point hiring manager and recruiter are coming your way and THIS INTERVIEW IS ABOUT TO GO DOWN.
Usually you would be nervous and insecure but this time…There is not a single reason for that.
You shake their hands and say all the right phrases while smiling genuinely. YOU ARE GOOD, because you know upfront HOW TO ANSWER any question that may be thrown your way.
You do not rush or mumble but speak in a perfect tone, voice and diction.
You tell them about yourself and portray all your experience and qualities clearly and vividly.
Your answers are impeccable, precise, elaborate and perfectly ON SPOT.
You know what they're after! You know exactly HOW TO POSITION yourself as the right candidate and feel that other people in the room totally get it.…
You are can almost hear them thinking: "How did we ever survive without this guy?"
Finally, you shake hands firmly and smile while saying goodbyes.
Following the interview, your wife or your friends are asking you how it went and FOR ONCE, you can actually claim you have a good feeling, because YOU DID GIVE YOUR BEST SHOT and were PERFECTLY prepared .
Then, the next day in the morning you get THE CALL.
Ok, now you feel slightly frightened: "Will they offer me the job?"…
You get on the phone and in the split of a second; everything goes through your head… You are already thinking about new challenges, new colleagues, next career step, higher salary, and BUM.
You hear: "Hello, I just wanted to call you because we'd like to offer you YOUR DREAM JOB and we don't see any reason to wait further! You are our perfect candidate. Are you in?"
Wooow… Sounds nice, doesn't it?
Almost as if in this kind of a setting, NOTHING COULD GO WRONG…
And at this place, I'd like to let you in on a secret I found out a while ago and which helped many believe ABSOLUTE SUCCESS in interviews is not such an abstract concept after all…
FACT: THERE IS A REASON BEHIND EVERY INTERVIEW QUESTION
People fear what they don't know.
Coming to an interview, to an unknown location, talking to people you don't know and being asked to present yourself in the best way possible…
…IS NEVER EASY.
But for the majority, the absolute WORST PART is the anticipation of questions which could come up…
LET'S FACE IT: They can ask you whatever they want.
But hear me out…
THEY WON'T.
You may feel they are just playing with you but this is RARELY THE CASE.
THEY ARE TESTING YOU.
Recruiters and hiring managers… They have their own CHECKLISTS and REQUIREMENTS you are not aware of.
They are often very interested in a VERY SPECIFIC THING and what may appear as a ridiculous question to you, may be a PERFECTLY LOGICAL WAY for them to test a SPECIFIC FEATURE they need you to demonstrate.
EXAMPLE: A recruiter is asking you about the instrument you play and whether you ever competed, hence, how far you've come in those competitions?
You may don't understand why but he/she may be testing you on various things by asking you about this….
He may be checking whether you are passionate, dedicated, ambitious, competitive…
Do you think some of these characteristics may be relevant in the CONTEXT OF YOU AS AN EMPLOYEE?
DAMN SURE.
And when you look at it that way, such and comparable questions stop being THAT RIDICULOUS, don't they?
You can continue coming up with alternative questions seemingly unconnected to your case but I promise you, I will be able to demonstrate a link or some kind of a purpose these serve.
YOU NEED TO CHANGE YOUR PERSPECTIVE, meaning:
YOU NEED TO PLACE YOURSELF IN THE PERSPECTIVE OF A COMPANY/EMPLOYER.
For a long time, I too, was unable to switch perspective and understand how questions can point out desires, wishes and needs of a company.
This understanding is not simple… But it is very USEFUL.
And it is only a matter of PRACTICE.
It is quite SIMPLE:
If you TRULY WANT this job, YOU HAVE TO GIVE IT YOUR BEST SHOT.
Remember…
By not giving your best shot, you are losing CHANCES.

And this is an ABSOLUTE TRUTH.
You are losing energy, time, self-confidence but most importantly….
CHANCES.
A chance to go to work every day feeling HAPPY and FULFILLED for knowing this is THE BEST PLACE FOR YOU.

A chance to EARN MORE and FEEL STABILE and comfortable in your financial situation.

A chance to feel GREAT about yourself instead of constant feeling of emptiness and worthlessness.

Chances to LEARN and DEVELOP… A chance to invest in your future and career.

A chance to FINALLY make a BREAKTHROUGH in your CAREER and STOP STAGNATING.


A chance to know YOU MADE IT, you are WORTH IT and that EVERYTHING CAN BE DONE.
You are passing on so many chances, by NOT DOING what you're supposed to do.
By NOT INVESTING all you got!
By failing to PREPARE ADEQUATELY.
By rejecting criticism and BEING AFRAID of your flaws and weaknesses.
SIMPLY PUT: By allowing someone else to PERFORM BETTER THAN YOU.
But not all is lost and you can still MAKE A CHANGE and REGAIN CONTROL.
If you are truly ready to do so, I have something which may help you get there…
INTRODUCING THE CRASH COURSE ON ROCKING JOB INTERVIEW
VISUALIZE a few things for a second:
…Going to an interview feeling PREPARED and RELAXED.
…Being able to demonstrate yourself in FULL GLORY and HIGHLIGHT your strengths in the best way possible…
…IMAGINE FEELING PROUD AND WORTHY.
Proud of your education, achievements, hobbies and character. Proud of your family, social life and yourself, exactly as you are. Aware of the fact that you TRIED HARD to get where you are and that you DESERVE a job you'll like and more money.
…IMAGINE THAT AMAZING FEELING OF PURE CONFIDENCE YOU HAVEN'T FELT IN SUCH A LONG TIME…
That feeling that you, just as you are now, can take on any challenge which comes your way. That confidence that there is nothing which can be too overwhelming for you, be it moving to a new city, new responsibilities or compromising between private and professional life. AND BEING ABLE TO SAY THIS OUT LOUD!
Or simply put:
…THE CONFIDENCE YOU CAN DO WHATEVER YOU SET YOUR MIND ON… That nothing is impossible and that you control how your life unravels.
VISUALIZE A CALL to your parents or your partner and telling them YOU NAILED THE INTERVIEW…
NOW VISUALIZE calling them to tell them YOU GOT THE OFFER.
Finally…
VISUALIZE your LIFE with a job you love…
A life with a job that brings you joy, progress and enough money to NOT WORRY about ridiculous things you have to worry about now…
So… YOU ARE READY TO TAKE IT TO THE NEXT LEVEL?
You are OVER SELF-PITY and EXCUSES?
And you are willing to REGAIN CONTROL over your JOB HUNT and YOUR LIFE!
GREAT!
Let's get down to the REAL TALK and concrete solutions:
This course will teach you how to:
Perfectly prepare for an interview (outfit, mental and technical preparation)

Kick off the interview: Small talk and general introduction

Answer most common interview questions (word-by-word)

Talk about your PREVIOUS EXPERIENCE

Vividly describe your biggest accomplishments

Discuss your weaknesses

Pitch yourself as the right candidate and convince the company you are THE ONE

Finish the interview: Seal the deal and not mess up at the end!


Write a perfect 'Thank you' letter
This course consists of six workbooks (those are as practical as it can get), focusing on different aspects of the job interview process:
#1 40+ THINGS TO CHECK BEST PREPARE FOR A JOB INTERVIEW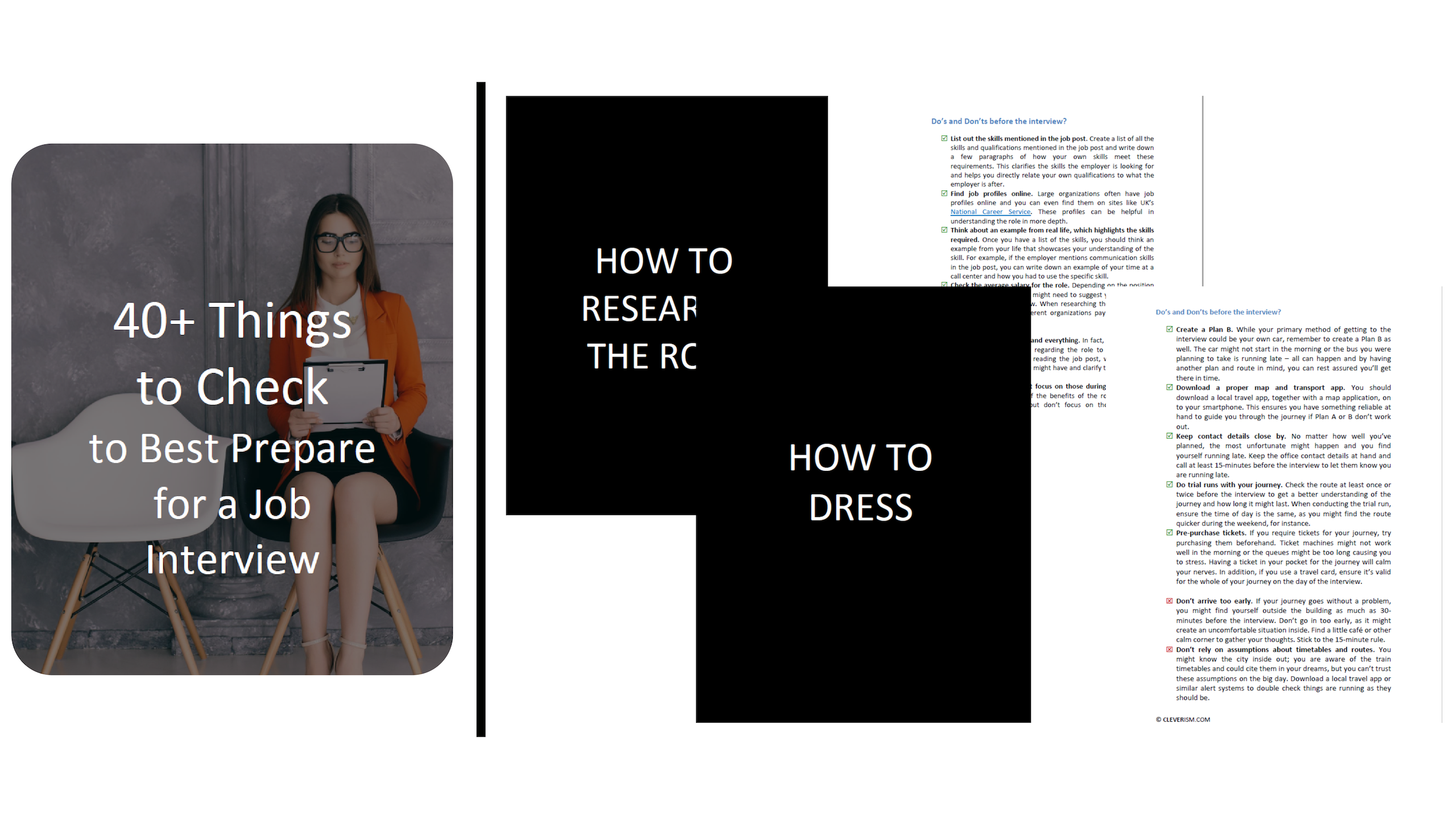 Think ahead and make sure you have everything under control BEFORE THE INTERVIEW even starts.
This workbook focuses on all key points of the preparation:
Stylish, yet professional outfit? Checked. You will never again sit across the interviewer thinking to yourself: "Why on earth did I choose this horrible uncomfortable skirt?" You will know exactly how 'formal' you should be and even which colors you should choose to BE AT YOUR BEST.

Cool accessories which make you seem TWO LEVELS HIGHER than your actual position? Checked. A nice watch, a nicely done portfolio, professionally looking bag… I will teach you which 'little things' have a 'massive effect' on the interviewer, so that you are sure not to go UNNOTICED.In depth knowledge on the organization/company? Checked. You will NEVER turn red for not knowing something about the organization you are interviewing for again. Who bought them, what's their next big move, why YOU like it… You'll know it all!
In depth knowledge on the organization/company? Checked. You will NEVER turn red for not knowing something about the organization you are interviewing for again. Who bought them, what's their next big move, why YOU like it… You'll know it all!

Company's profile and values? Checked.

Every additional peace of information can be key. I will show you how you CAN and SHOULD use COMPANY'S VALUES to your advantage.

Master of Science but you'll also rock your interviews as a Master of all relevant information in the field or in your industry. You don't have to do additional studies in order to be informed and on TOP OF ALL RELEVANT DEVELOPMENTS.
You will now know the best way to answer the famous: 'Why do you think THIS ROLE would be right for you?' question. You will explain it so well, they won't know how they survived without you there.
You will understand how your career objectives should be PRESENTED BEST. Know how to answer: 'What do you expect from your career in the next 5 years?' question and KILL IT!

And you will never, ever run to get to the interview… You just won't be that kind of person.
#2 HOW TO ANSWER MOST COMMON INTERVIEW QUESTIONS WORD-BY-WORD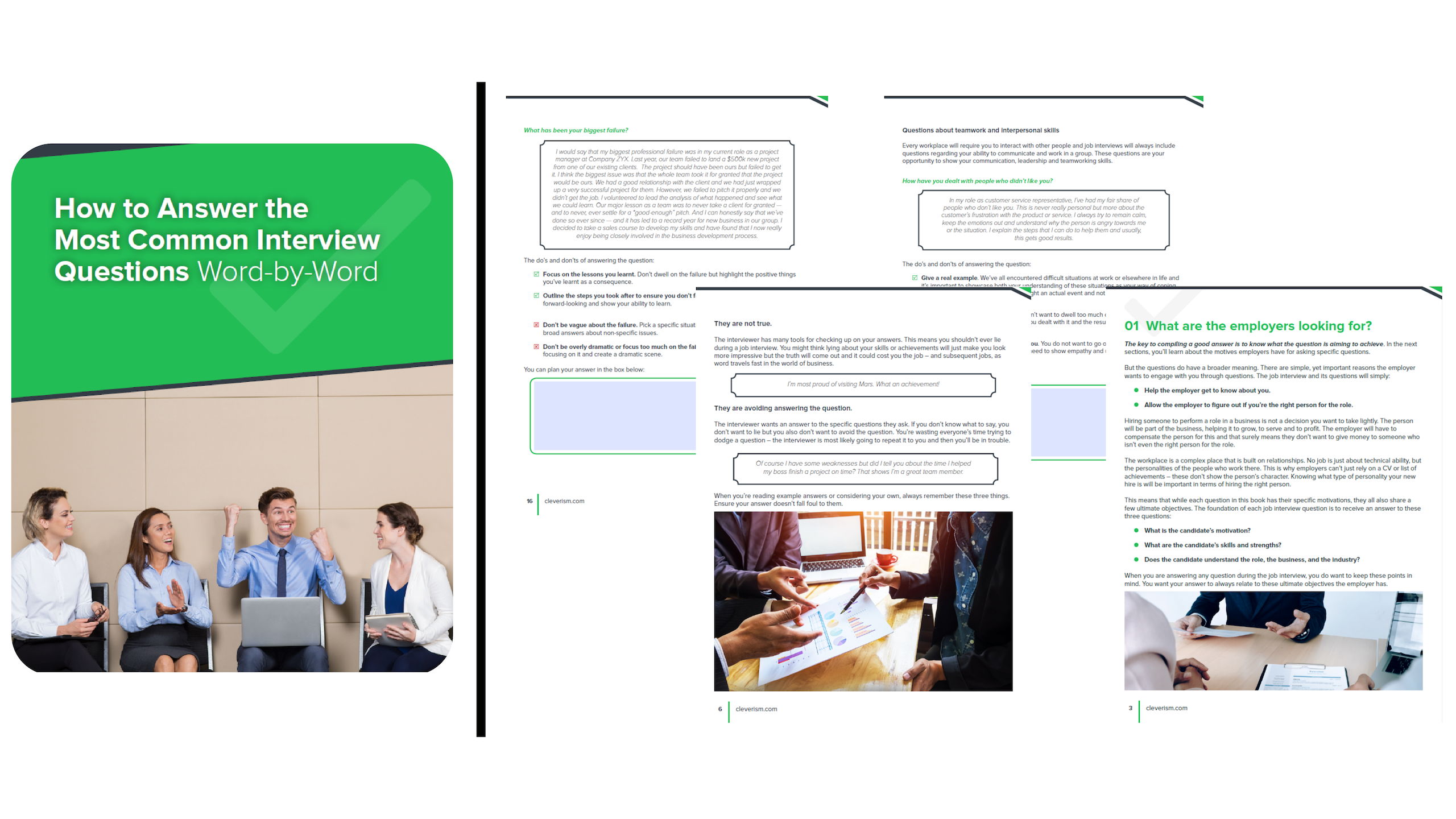 The most important part of the interview is ANSWERING QUESTIONS correctly.
You don't want to panic and say something silly… I got you covered!
You will not only get specific word-by-word answers to the most common interview questions, but will also…
Afraid your profile is not so fantastic and that your answers in an interview don't really account for much? Once you KNOW what the interviewer is looking for, then you know EXACTLY what to say to make THEM WANT YOU on their team immediately and that is when your CV/profile becomes… irrelevant.
How do you reply to a question about your weaknesses in a GOOD WAY? Is there a way to make weaknesses attractive for an employer? DAMN SURE and I can show you HOW to do it. Once you portray your weak spots as opportunities, they can certainly work to your advantage.
Is there actually some method you can use to always provide amazing interview answers?
YES! Once you understand the STRUCTURE of a good answer you will always be able to provide A KILLER ANSWER, regardless of the concrete question. And…
You'll never again be taken by surprise!
#3 HOW TO PITCH YOURSELF AS THE RIGHT CANDIDATE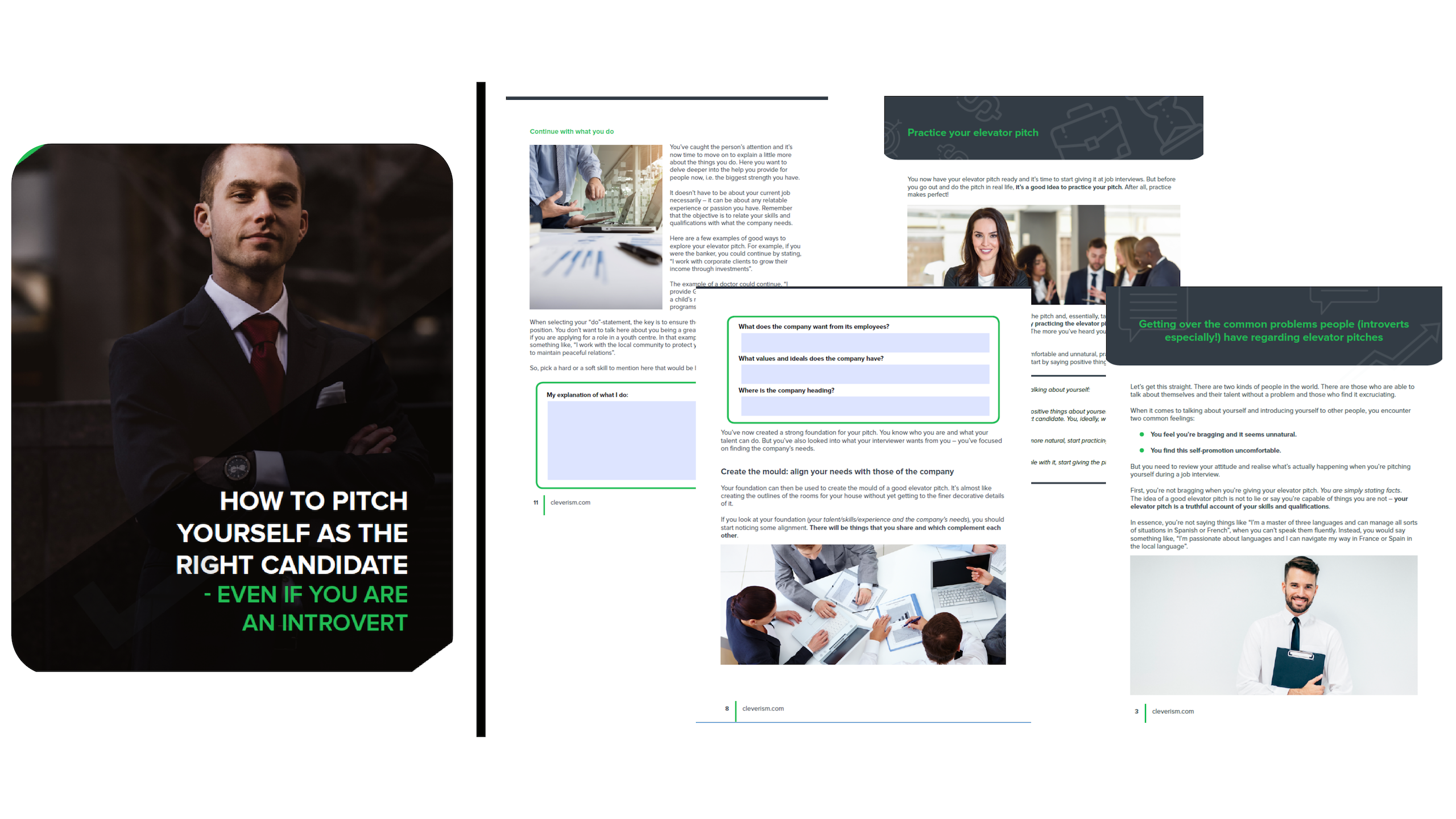 Talking about yourself can be difficult, especially if you're an INTROVERT.
SAD NEWS? There is no way to avoid it in job interviews. GOOD NEWS? I got you covered.
Ever thought how some people create opportunities for themselves by simply talking about themselves? And you listen to them thinking: "Damn, I wish I was this confident…" YOU CAN BE.
You CAN LEARN how to deliver an amazing elevator pitch without it feeling like bragging and completely unnatural.Even if you absolutely aren't the most confident person in the room or an EXTROVERT…
And you can prepare it and deliver a good speech once, but is there a way to be SO AMAZING EVERY TIME? YES. Once you understand the basic structure of a GOOD PITCH, you will be sure to always deliver a perfect self-introduction speech.
You won't have sweaty palms or a shaky voice once an interview pops up the:" Tell me about yourself and how you think you can contribute to our company" question… You will just AMAZE and…
You will know how to MAKE ANY INTERVIEWER WANT YOU. And you will not be making things up or being someone you are not… You will just UPGRADE the way you TALK ABOUT YOURSELF.
#4 WHAT QUESTIONS TO ASK OR NOT TO ASK TO INCREASE YOUR CHANCES OF GETTING JOB OFFER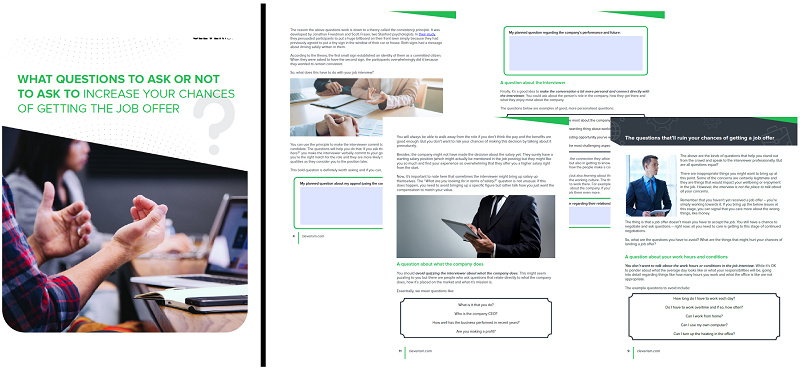 You may be missing a good chance to make AN IMPACT by asking the RIGHT QUESTIONS!
I'm pretty sure you'd be surprised how influential YOUR QUESTIONS are.
You will be able to demonstrate you understand the role and are ACTUALLY interested to hear about some specific details or even, difficulties.
By asking RIGHT QUESTIONS, you will be able to perfectly demonstrate JUST HOW INTERESTED you are in a specific company, without sounding artificial.

You will learn how to MAKE AN EFFECT by asking for comments on your APPEAL, demonstrating you are ALWAYS opened for feedbacks.

You will be able to demonstrate the interest for the interviewer, his work and opinions while remaining natural and genuine.

You will know how to raise the topic of salary or initiate salary negotiations but NOT MESS YOUR CHANCES by appearing greedy or tasteless.

You will never again leave an interview, wanting to cry because you asked a ridiculous question which CAME OUT COMPLETELY WRONG.

Wrong questions will never MESS YOUR CHANCES again, for you'll know what TO and what NOT TO ASK. Simple as that…
And many more…
Bonus #1: HOW TO WRITE A 'THANK YOU' LETTER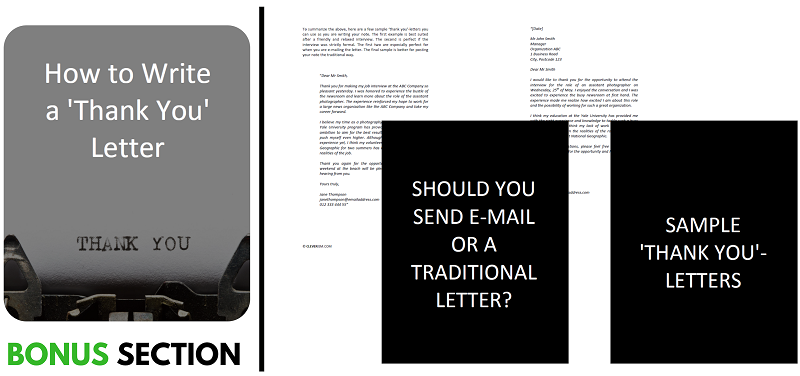 It's not over till it's over and your efforts end with a phenomenal 'Thank you' letter.
And now, you too can SEAL THE DEAL in a powerful and efficient manner.
It's seems easier than it is but when you actually get to writing it…It all sounds a bit desperate or pushy or too formal.
Going through this workbook, you will never have such troubles again!
You will know how to say thank you, remind them of yourself and just how great you are without sounding like a 'stalker'. Pretty useful, isn't it?
Bonus #2: 102 BEHAVIORAL INTERVIEW QUESTIONS
You will become a master of behavioral questions and these will never make your life hard again.
Those questions which people often refer to as 'tricky'? You will treat them as GOOD FUN and you will know how to present yourself 10 times better in an interview by simply answering these appropriately.
"Describe a time when you convinced a resistant customer to utilize your services."
You will be that person who, by describing a regular situation which occurred on a job, makes everyone think he is the QUEEN/KING OF PROBLEM SOLVING.
"Describe a time when you were not only responsible for leading a team of people, but also for doing the same job as your team members? How did you balance your time?"
You will be able convince them you are a PERSON WHO CAN DO IT ALL by simply explaining your daily schedule in the right way.
"What was the toughest period during your professional career? Why?"
You will now be able to make your maternity comeback or your 6 months of useless internship look good. Trust me, I did it! You just have to know how to SELL YOUR CASE right.
You will never again be taken by surprise by a seemingly illogical or tough question, because you will think these through and WILL KNOW how to handle them.
Interested?
Course Curriculum
Welcome!
Available in days
days after you enroll
Module 1:
Available in days
days after you enroll
Module 2:
Available in days
days after you enroll
As with any other product, this course is not for everyone.
It is for you, if…
You are opened to rethink your ways, tactics and things you think you know.

If you are willing to dedicate some time to master this course.

If you experience interviews in a rather typical company setting, in person or via skype.

If you are ready for some constructive feedback and self-criticism.

You are willing to work hard and are actually motivated for the next big step.
It is not for you, if…
You are not opened to changes.

If you want instant results.

If you experience interviews in the form of auditions and you need to present some very specific skills (e.g. singing/acting auditions), rather than answer questions.

If you cannot bear criticism and don't want to reflect on your actions and behavior.

Are ok with where you currently are and are not sure you want to go an extra mile
Frequently Asked Questions
"I am a very, very shy person and am not sure I can ever get over this… Every time I get even slightly stressed out, I lose my voice, I forget what I wanted to
It should work but you have to be willing to work for it. I do focus on this issue broadly and I will provide you with tips, tricks and advices in this course, but it is you who has to decide to make a change. You will have to invest some time and energy but with a lot of hard work, great results are bound to happen.
"I don't get invited to interviews at all… Is there something I could still use from this course?"
I would say YES. It appears that you have some issues with job applications in general. This area is not exactly covered by this course, hence, I would advise you to also consider courses related to job hunt and job applications. When you do finally get a call for an interview (and you shouldn't expect too many of those invitations), you will want to play your cards right and be perfectly prepared. This is where this course can be of great use for you, but sure, you will definitely have to take one step at a time.
"It's impossible you give all examples of potential questions in this course. How can I expect to gain absolute preparation from it?"
I most definitely do not give examples of ALL Interview questions in this course. I don't do this, because first, it would be impossible and second, I do not think it is necessary. This course aims to transfer a more general knowledge, practically applicable in all interviews you take part in. After you understand the philosophy and logic behind interview questions (also on the basis of concrete examples), you will know what to focus on and you won't need to learn answers by heart.
"I'm already out of time and would really appreciate some fast results. Can I count with that by purchasing this course?"
I cannot promise any 'fast results'. So far, this course proved as extremely successful and there were quite a few people that achieved incredible results in weeks-time. On the other hand, others took months or even years to overcome certain challenges, so it really depends… It depends on how much work you invest in it and it depends on how much work your case needs.
"I am a freelancer. Can this course still help me prepare for when I have interviews for engagements?"
It depends on the type of engagement and interviews you are getting. As long as interview has a typical structure and it's not about certain skills or performance that has to be demonstrated, you should be able to use this course. Now, the thing is that freelancing clients usually require a demonstration of your skills (an example of your work) and are not really interested in your soft skills, team spirit etc. Therefore, it really depends on the type of work you do and interviews you are getting. If you experience rather "typical" interviews, then yes, you certainly could use this course.
"How do I know this course will work for me?"
You don't and I can't promise you that. I am giving you the means but you also need to invest something yourself and this is the part I have no control over. If you think what I talked about above seems reasonable and you feel it talks to you, I am glad. You may also want to check out some of the content on my page (Cleverism) and check whether there is something you can use there. I most definitely cannot claim a 100% success rate but I can guarantee I am offering sustainable solutions which worked for hundreds of people who gave it a fair shot.
"How is the course content delivered?"
Job Interview Rockstar course is a workbook-based online course. When you register you will receive an enrollment email with your unique login information where you can work though all workbooks.
"When does the course start and finish?"
The course starts now and never ends! It is a completely self-paced online course - you decide when you start and when you finish.
"How long do I have access to the course?"
How does lifetime access sound? After enrolling, you have unlimited access to this course for as long as you like - across any and all devices you own.
"What if I am unhappy with the course?"
Try the entire workbooks. 30 days is enough time to go through the workbooks twice and then decide. If you don't LOVE it, I insist that you get 100% of your money back. It's simple: Learn and try it for yourself. If the powerful tips and tricks don't help improve your life in 30 days, I want you to email me. Show me you did the exercises, and I'll give you all your money back. This guarantee lasts 30 days, which completely covers the workbooks. That means you can try the ENTIRE workbooks and then decide if it's right for you.
GET INSTANT ACCESS TO JOB INTERVIEW ROCKSTAR WORKBOOKS
WHAT OTHER PEOPLE SAY ABOUT JOB INTERVIEW ROCKSTAR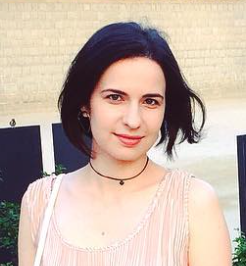 "I used part of it word-by-word in my last interview… They asked me a few behavioral questions very similar to examples in the course and I immediately understood WHAT THEY WANTED to hear. They seemed very satisfied with my answers and yesterday, they called me with a job offer! Hard work always pays off and I am so happy I gave it a try."
- Stephanie B.

"Just want to say thank you for this course! I had an interview yesterday and I actually got to use many of the examples provided in it! I still don't know the result of the interview but the sole fact I felt 100 % more comfortable and as if I AM ACTUALLY PREPARED for what they asked me, meant a world to me."
- Alex N.